In Memory of a fellow Singapore Ming blue and white Collector
14 Mar 2011 was a sad day for me. Around 10.30 pm, I received a call from a friend, Mr KH Lee informing me Mr Eric Ng Choon Hiang (黄俊贤) had passed away. It came as a shock as I did not expect it to be so soon although we knew that he had lost the fight to cancer. I have known Eric for about 10 years. I first heard about him from a dealer sometime in 2000. However, our first encounter was rather accidental. Sometime in 2001 while on my way to attend a Chinese Ceramics talk which was organised in a Community Centre near my residence in Macpherson, I met Mr Lee at a hawker centre. He introduced me to Eric who was with him. Couple of weeks later, Eric called me and invited me to view his Ming blue and white collection. He had only started collection for about 5 years but already had an interesting and impressive range of good quality Ming blue and white wares. He told me that he first started collecting some Qing porcelains. He showed them to a dealer, Mr Liu who had a shop in Chinatown Point and was disappointed to learn that those were fake pieces. Mr Liu assisted him to return and exchange the pieces for some other genuine pieces. Mr Liu was a keen collector of folk kiln Ming blue and white. Through him, Eric had the opportunity to handle many Ming blue and white pieces and he subsequently developed a strong interest and set Ming blue and white as the focus of his collection. We share the view that motifs on Ming blue and white are more varied and possess innate charm due to the lively and spontaneous execution. The whole drawing is done by a single artisan and the final result depended on the level of competence of the drawer. In comparison, the drawing found on Qing porcelain is a team effort. There was clear and define division of labour in the Qing Jingdezhen porcelain industry. Each artisan usually learned and specialised in drawing a particular motif. Hence, the whole composition on a Qing porcelain required a group of artisans to complete. In Singapore, most collectors are interested in Qing porcelains as they are more widely available and visually pleasing especially to less discerning new collectors. Eric was steadfast in his belief that the artistic value of Ming folk kiln Blue and white wares had been under-estimated and its place in the history of Chinese Ceramics not fully appreciated. During an interview when a local Chinese Newspaper did a feature on his collection, he proclaimed that he was determined to revive interest in Ming porcelain. He is known as the Fanqing Fuming (反清复明) collector, ie the collector who resists Qing and restores Ming.
Since we met, Eric had further enriched his collection with more acquisitions especially Chongzhen period pieces. During the early stages, he was more attracted to Early/Mid Ming pieces. I encouraged him to collect more Chongzhen pieces which were interesting and generally of high quality in terms of the porcelain quality, the cobalt blue and drawing. Many of the subjects found on Chongzhen pieces were inspired by the blockprint drawings of scenes from Yuan/Ming dramas and historical episodes. The standard of the drawings was among the highest in the history of Chinese porcelain decorative art. Eric subsequently acquired a number of good pieces which turned out to be a high point of his collection.
Unfortunately, about 4 years ago, he was diagnosed with colon cancer. Despite his difficult fight with cancer, he maintained a strong and optimistic spirit and was determined to live an active life. He did not give up till the last moments of his life. During this period, he had to dispose his collection to raise funds for his medical treatment and support his family. As with many great past collectors, the parting with one's precious collection is inevitable. It can happen while one is still alive or after demise. Memories of some great collections were kept alive in publications or in museums. Eric was proud of his collection and was happy to share it with other Ming blue and white enthusiasts. It is fortuitous that he fulfilled his dream of having his collection keep in permanent record in a Chinese book published in 2005. It is a clear fruit of labour and showed that with clear objective one can build up a good collection even with a modest means. It is also a fitting and worthy memorial to a fine collector who once laboured to preserve a precious part of our cultural heritage and contributed to enhance our understanding and appreciation of Ming blue and white.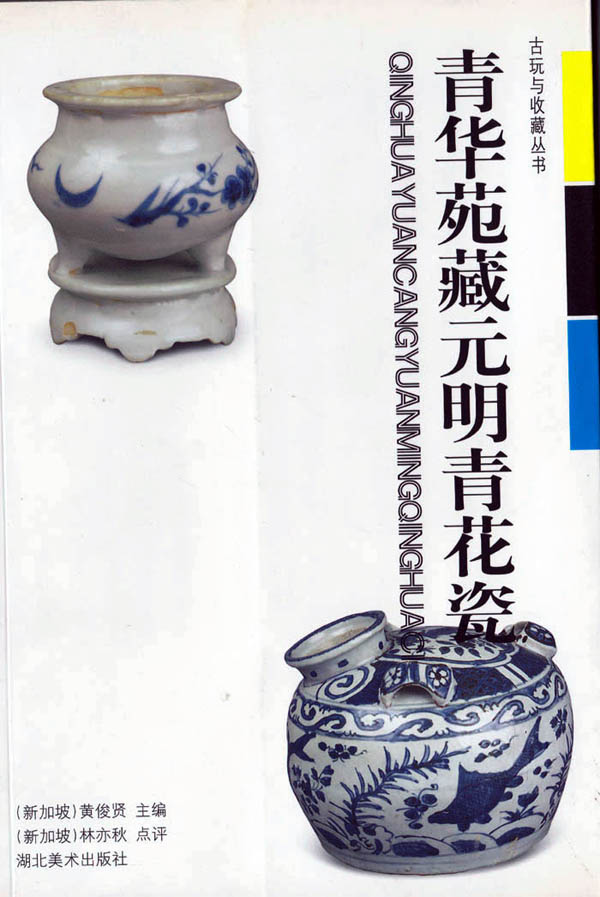 In 2005 Eric gave me a set of photos of the ceramics that he intended to use for his book. Some of the pieces were not featured in the book. There are also photos of published pieces but with additional photos taken from different angle. Reviewing the pieces, I am still amazed at their quality and indeed they represented some of the the best works of the folk kiln Ming potters from various phases of the Ming period. As a tribute to him, I have organised and created this website on his collection.
Eric's focus is on Ming blue and white wares. But he also collected some Yuan blue and white which were exported to Southeast Asia. Among the Yuan pieces, one of the best is the below Yuhuchun vase. Despite the restored neck portion, it is still a very attractive piece featuring lotus in the pond. The blue is the typical good quality Middle East imported cobalt.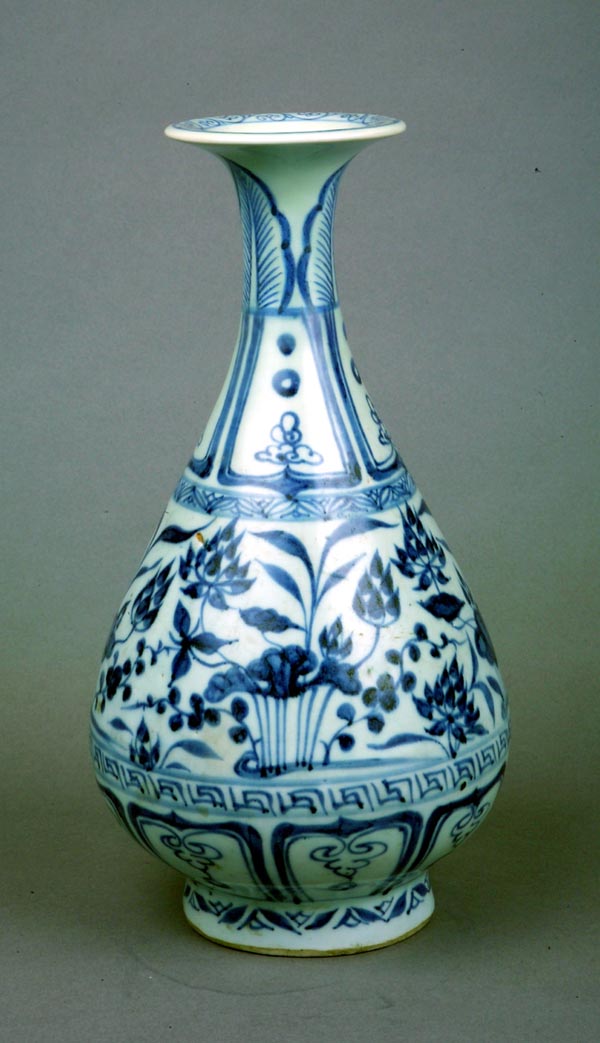 Yuan blue and white Yuhuchun Vase
Eric was very selective in his choice of Ming blue and white pieces. He insisted that his collection consisted of varied form and motifs. The quality of the drawing must also be good. He did not mind minor defects and was more concern about the artistic merits. The below selections of Ming blue and white showed his critical and discerning eye for quality pieces.
The below Hongwu censer is rather rare with fine drawing of prunus motif. Most Hongwu blue and white has a rather grayish blue. This piece has a pleasing strong and more bluish tone under a qingbai tone glaze.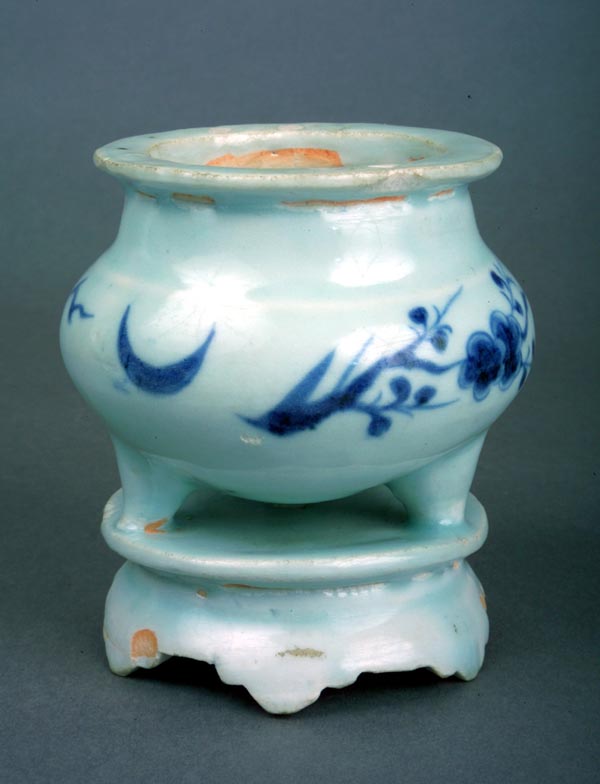 Hongwu blue and white censer with prunus motif
Meiping is a more high end vessel among Ming wares. Eric had a number of meipings in his collection. The below Xuande meiping depicts the drawing of Shennong (one of the 3 mythical emperors of ancient China) gathering herbs. This piece has a rather interesting history. Many years ago in the early 1990s it first appeared in an antique shop in Singapore. The female dealer only wanted about $6000 for it. At the point of time, many of us were not familiar with Ming blue and white and were not sure of its authenticity. No one then could master enough courage to purchase it. It was later sold to a dealer from China. Eric purchased it for a much higher price from China and it was authenticated by Prof Zhang Pushang as dated to Xuande period.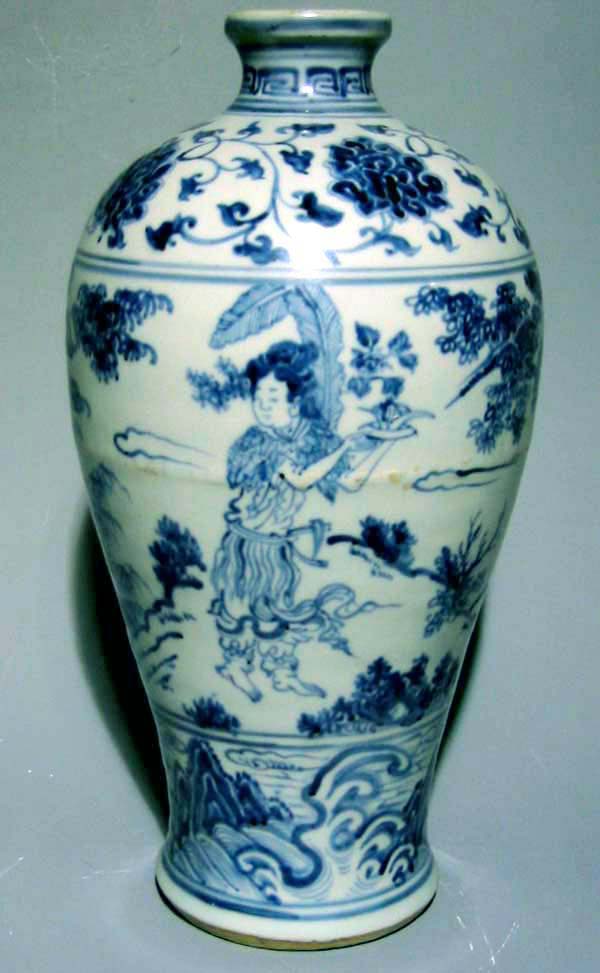 Xuande blue and white meiping with mythical emperor Shennong
The below meiping depicts a scholar with rolling clouds in the background. The spring coils-like cloud is a typical feature of Ming interregnum period.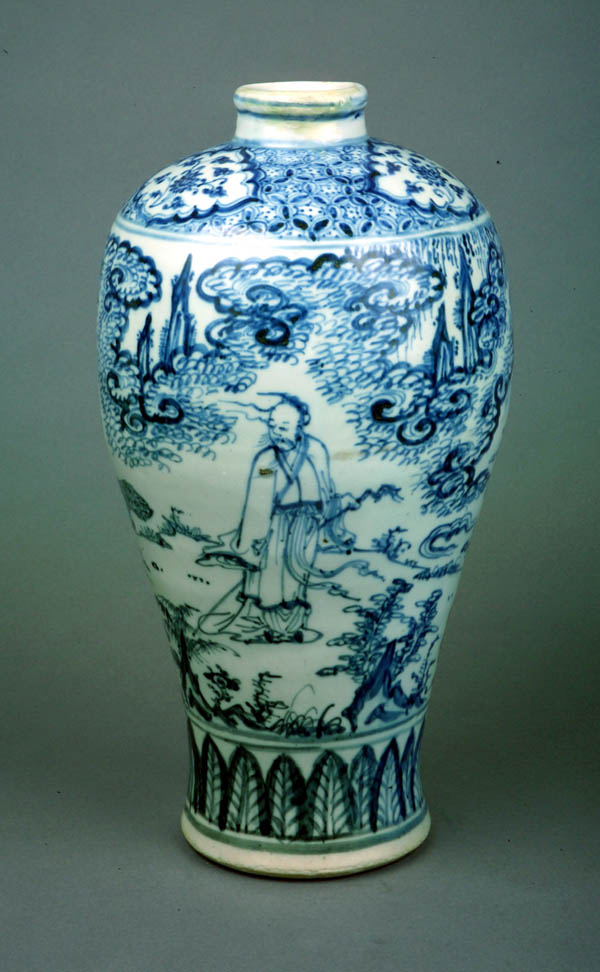 Interregnum blue and white meiping with scholar motif

Among his mid Ming pieces, there were many vessels with interesting shape. Among them were some scholar's items such as a water pot in the shape of two cuddling mandarin ducks and another in the form of a crab.
| | |
| --- | --- |
| | |
| Hongzhi blue and white duck shaped pot | Hongzhi blue and white crab-shaped water pot |
| | |

Some other notable pieces included a Zhengde bowl with stand. It is most probably a vessel for the altar and is used to put oil. Another is a Zhengde crescent-shaped water vessel for the Islamic market.
| | |
| --- | --- |
| | |
| Zhengde blue and white censer bowl with stand decorated with galloping horses and floral motif | Zhengde blue and white crescent moon-shaped water vessel |
| | |
Bowls and dishes are common items amongst Ming wares. Hence, Eric was very particular about the quality of drawing. The below Mid Ming bowls showed his keen eyes and good taste. He would rather forego mediocre pieces and pay a premium price for quality pieces.
| | |
| --- | --- |
| | |
| Chenghua blue and white bowl with warrior motif | Hongzhi blue and white dish with lady praying in garden |
| | |
| Chenghua blue and white bowl with floral scrolls and buddhist precious objects | Hongzhi blue and white warmer with lotus encircling winged dragon |
In his collection, there was also no lack of quality pieces in the late Ming category. The below Jiajing/Tianqi pieces showed the diversity of shape and motif that had definitely enriched and widened the depth of his collection.
| | |
| --- | --- |
| | |
| Jiajing blue and white big jar with crane and bamboo motif | Jiajing/Wanli blue and white vase with dragon motif |
| | |
| Jiajing blue and white urinal with fishes and reeds | Jiajing blue and white ink paste box with phoenix motif |
| | |
| Tianqi blue and white jar with dragon motif | Jiajing blue and white hexagonal jar with cranes in clouds motif |
| | |
| Wanli/Tianqi blue and white jar with interesting infant subject | Wanli blue and white jar with 8 immortals |
Eric recognised the high aesthetic merits of transitional blue and white and was actively sourcing for them in the later stage of his collecting phase. Transitional covered the period from last year of Wanli to early Kangxi period. It is the only area which he made allowance for Qing ceramics as the transitional phase Qing ceramics still show stylistic continuation of the late Ming phase in terms of the motifs. Indeed his effort has not gone in vain as he had some representative pieces that would be held in high regard in any good Transitional period collection.
Some beautiful Transitional blue and whites in Eric Ng's collection
Video of Eric Ng Collection
In memory of a fellow Ming blue and white collector, Mr Eric Ng who passed away on 14 Mar 2011. http://koh-antique.com/ericcollection/mingmain.htm

Posted by Koh Nai King on Thursday, December 29, 2016
Written by: NK Koh (1 Apr 2011)