Zhangzhou wares from the Nan Ao Number 1 (南澳一号) shipwreck
The Nan Ao Number 1 wreck is located in the sea off Shantou in Guangdong province. It was salvaged by the Guangdong Province's institute of cultural relics and archaeology in 2010 A.D. The wreck consisted of mainly Zhangzhou blue and white wares and a small quantity of Jingdezhen blue and white wares. The wreck is widely believed to be from Ming Wanli period. The dating was suggested by Chinese experts who basically based their dating after examining the Jingdezhen blue and white wares which were recovered together with the Zhangzhou wares. Some points raised to support a Wanli dating included observations such as that the outer base of some of the blue and white showed chattered marks and that Hui qing were used. (Hui Qing (回青), an imported cobalt shows a purplish tone when used with local cobalt for blue and white decoration. Some experts suggested that Hui qing was monopolised by the imperial kiln during the Jiajing period and were only used on some folk kiln blue and white after the late Wanli period). Personally I am of the view that such arguments are questionable and warrant further deliberation. On the contrary, such features could also be found in folk kilns (Minyao) Jiajing pieces and would bring up examples to support my arguments.
Production of Swatow ware was linked to the rise of Yuegang as the port of exit for Chinese ceramics. Based on the Ming Blue and white ware found in the Southeast Asia region, it is clear that by Ming Hongzhi period, Jingdezhen Blue and white wares were exported in significant quantity. The Lena cargo and the Brunei wreck are physical evidence of their presence in the region. During this period, the ban on private export of goods from China was still in force. But historical records indicated that smuggling activities were rampant. The Portuguese traders were the earliest European power to make their way to China and actively involved in the ceramics trade since the first half of 16th century. They secured Macau as the base to carry out trading activities in 1557. The Spaniards arrived in Philippines via America in 1521. Using Manila as a transhipment point, goods from China, India and Southeast Asia were assembled and loaded on the galleons which made regular voyages to Acapulco in Mexico, another Colony of Spain.
The Court realised the futility of continued ban and opened up Yuegang for trading in 1567. At least since the Hongzhi period, Jingdezhen blue and white wares smuggled out through Yuegang. Exactly when did the kilns in Zhangzhou started producing blue and whites to feed the export trade? Was it after the opening up of Yuegang port in 1567? So far, shipwrecks and archaeological evidence appeared to indicate that it occurred not earlier than Ming Jiajing period.
In the Nan Ao wreck, the Zhangzhou blue and white wares were decorated using calligraphic strokes. From what I gathered, there were none of those typical Wanli/Tianqi kraak style type decorated using the outline and wash method. Such blue and whites were found in the San Diego wreck dated 1600 A.D, the Binh Thuan shipwreck dated early 17th century and wreck of the Dutch East Indiamen the Witte Leeuw which had gone down near St. Helena, on its homeward voyage in 1613. The decorations of those found in the Witte Leeuw are similar to that from the Binh Thuan shipwreck.


Blue and whites from Nan Ao wreck with motif executed using calligraphic strokes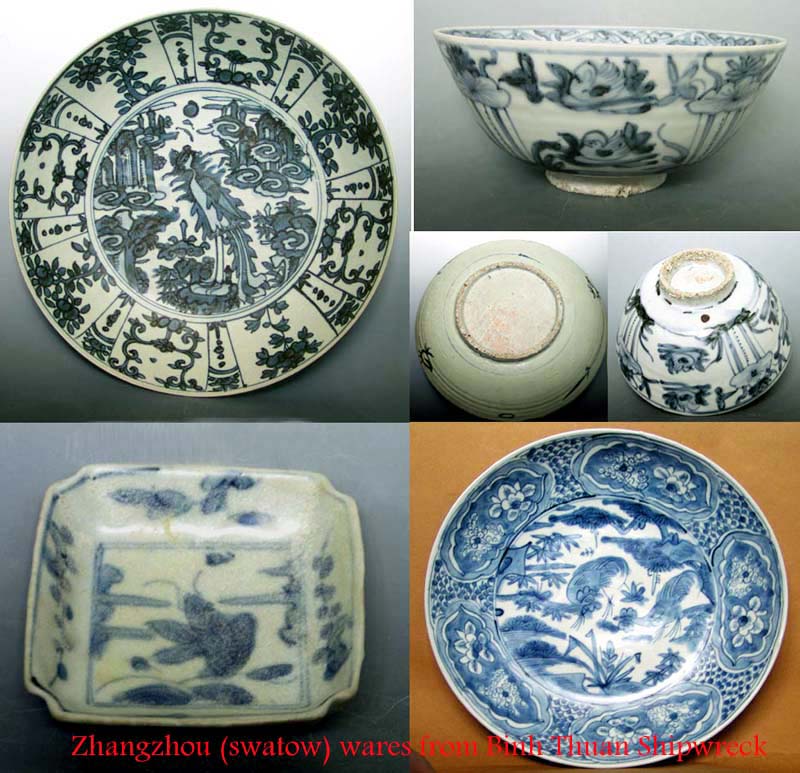 Blue and white from Inh Thuan wreck with motif executed using outline and wash technqiue
Mrs Sumarah Adhyatman in her book "Zhangzhou (Swatow Ceramics)" classified those blue and white executed using calligraphic strokes as Conservative type as opposed to those kraak style type using the outline and wash method which she termed persistent type. She is of the view that the conservative type were introduced earlier that the persistent type. Conservative types were recovered from the San Isidro wreck in Philippines and an early 16th century dating was suggested. This would place it in the Jiajing period. Unfortunately, I was unable to find information explaining the rationale for the dating. However, it is interesting to note that many of the plates were decorated with floral motif on both the interior and external wall. This composition is stylistically predominant during the early/Mid Ming period. Comparatively, after Jiajing period, the exterior of plates/bowls is more sparsely decorated or left undecorated.
Example from the San Isidro wreck
The other known wreck with earlier period Swatow blue and white is the San Felipe wreck. It is dated to 1576 (4th year of Wanli) and carried some Swatow blue and white with the calligraphic style of decoration.
Example from the San Felipe wreck
The Belanakan wreck also carried some big blue and white plates which are stylistically similar to the San Felipe example in terms of the calligraphic floral decoration. This wreck carried mainly Jingdezhen blue and white and most probably dated to the transition from late Jiajing to Longqing period.
| | | |
| --- | --- | --- |
| | | |
| | | |
| Examples with calligraphic style floral decoration from Belanakan wreck | | |
Based on Zhangzhou wares found in some of the above shipwrecks such as San Diego, Witte Leeuw and Binh Thuan, it is obvious that the persistent type (i.e. those using outline and wash method) was in demand by overseas buyers during Wanli and later period. From the shipwreck evidence, it is clear that by 1600, relatively few decorated using the calligraphic strokes were produced. Stylistically, it is obvious that they were copies of the Jingdezhen Kraak style blue and white wares. A typical Kraak style blue and white is partitioned into panels which contain different motif. The decoration is executed using the outline and wash method. We still do not have enough information to determine the exact point of Wanli period that it was first produced, but generally believed to be around 1570/1580s.
None of the outline and wash type found was found in the Nan Ao wreck and is indicative of an earlier dating. If it is dated to later part of Wanli period, that would indeed be indeed puzzling. Why would the traders opt for the calligraphic Zhangzhou wares when the persistent type was in high demand then?
Similar types of Jingdezhen blue and white wares found in the Nan Ao wreck were also recovered from the San Sebastian wreck which dated to Jiajing period. This wreck, situated near the sea in Fort San Sebastian in Moçambique, was discovered in 2001 by the team from Arqueonautas, a Portuguese salvage company.  Subsequent research carried out by its team revealed that this wreck is most likely the remains of the Portuguese ship nao Espadarte.  It went to India in 1554 and while on its return journey to Portugal, it broke its mast at the Cape of Good Hope and was forced to go back to Mozambique where it sank.  Many of the blue and white wares from the San Sebastian were of very high quality and showed purplish blue tone which indicate that some Hui Qing were used. Hence, the earlier suggestion by some Chinese experts that folk kilns were prohibited to use Hu qing during the Jiajing period may not be correct. Or at least, avenues were available to the folk kilns owners to gain access to Hui Qing cobalt.
Cups with birds on tree branch (left from Nan Ao and right from San Sebastian
Stylistically similar dragon bowl (left from Nan Ao and right from San Sebastian)
The Nan Ao phoenix plate has the same dish shape and similar band of motif on the rim as those found in San Sebastian wreck
In fact, the Nan Ao wreck has a bowl with "Da Ming Jiajing Nianzhi (大明嘉靖年制)" mark. The bowl is typical of that found during Jiajing period and could be a mark and period piece. Another bowl with the "fugui Jiaqi (福贵佳器)" mark is also typical of Jiajing period.
Bowl with Da Ming Jiajing Nianzhi mark

Bowl with Fugui Jiaqi mark

Some other Jingdezhen blue and white from Nan Ao wreck. Stylistically a Jiajing dating for them is also not untenablee

<![if !supportMisalignedColumns]>
<![endif]>
Two Jingdezhen wares from the Nanao wreck
From the Nanao wreck there is a type of bowl with scholar with deer. This type is very popular during the Wanli/Tianqi period. However, usually they do not have the cross-hatched band near the inner mouth rim. Cross-hatched band is popular during the Jiajing period. Such combination of decorative elements suggested a transitional nature of the composition, i.e. between Jiajing and Wanli.
Nanao wreck bowl with scholar/deer motif
It is interesting to further compare those Jingdezhen blue and whites from Nanao and San Sabestian to those found in the Belanakan wreck. One particular type that interests me is the bowl with the pine/prunus motif on exterior and grapes/vines on the interior. It appears that those from Nanao and Belanakan has gone through some changes Those from the Nanao wreck are more sketchily executed and may have been made later.
| | |
| --- | --- |
| | |
| Nanao wreck | Belanakan wreck |
The Shangchuan Island (上川岛) situated west of Macau was an important trading post for the Portuguese. It was called Sanchoao in the Portuguese documented sources. It was also known to be called "Ailha da Veniaga" ie trading island. It was replaced by Macau as a permanent trading post in 1557. Sherds recovered from the Island are typically dated to Zhengde/Jiajing period. None of the ceramics found is of Jingdezhen Kraak style or Swatow type.
Typical Jiajing to early Wanli blue and white has a more purplish colour tone. The cobalt blue differs from those Kraak style blue and white which has a typical silvery greyish blue colour tone. The purplish tone of most of the Nanao Jingdezhen blue and white wares indicates that they were made prior to the introduction of Kraak blue and white.
The San Sebastian wreck (1554 A.D) and the San Diego wreck (1600 A.D) serve as good reference points to narrow down the dating of the Nan Ao wreck. Some of the Nanao Jingdezhen blue and white have features of Jiajing/Wanli period which indicates that they were produced during the transitional period. The fact that no swatow blue and white with outline and wash decoration suggests that they were produced before 1600 A.D. Hence, the Nan Ao wreck can be dated to the 2nd half of 16th century and very likely around 1560s to 1580s, i.e. end of Jiajing reign (1522 to 1567 A.D) to early Wanli period (1573- 1620).
The Nan Ao Number 1 wreck

Posted by Koh Nai King on Monday, March 27, 2017
Written by: NK Koh (20 Oct 2014), updated: 28 Mar 2017