Tek Sing Shipwreck Cargo


In 1999 Captain Michael Hatcher, one of the world's most successful salvagors of shipwrecks (among which were the Hatcher Collection, from an unidentified Chinese junk and the Nanking cargo from the Dutch Geldermalsen that sank in 1752. Both cargoes were successfully auctioned in Europe in the 1984 and 1986 respectively) discovered the sunken remains of Tek Sing ("True Star"). It is an unusually large junk measuring approximately 50 meters long and 10 meters wide and weighs around 1000 tons.
Tek Sing set sail from Xiamen (Fujian Province) in Jan 1822 (one year into the reign of Qing Daoguang) and headed for Java. It had more than 200 crew members and at least 1600 passengers, majority of whom were emigrants looking for work in sugar cane fields in Java. The fateful disaster occured in Feb 1822. It hit a reef in the South China Sea near Belitung Island. Only 198 people survived the tragic disaster. They were saved by a Captain Pearl, an ex-navy captain, who passed by the place with his ship "Indiana" two days later.

The Cargo
Chinese ceramics constituted the bulk of the cargo. There were more than 350,000 pieces salvaged. Majority are Fujian Blue and white wares consisting of plates, bowls cover boxes and cups There are also some quantity of brown glaze vessels which are also likely from Fujian kilns. Other interesting ceramics finds include Yixing teapots and Jingdezhen Blue and white infant figurines.
Other items recovered included mercury, sextants, pocket watches, Chinese ink pads, iron and brass cannon, one bronze cannon, boxes with needles, pocket knives, Chinese brass padlocks, candlesticks, incense burners, telescope parts, coins.
Dehua blue and white
Majority of the Blue and white wares were products of Fujian Dehua kilns. Dehua first emerged as an important export oriented production site for white/qingbai wares durng the Northern Song period. During the late Ming/early Qing period, it further improved on its white wares and finally produced the much coverted white wares known in the West as Blanc De Chine.
But by Qing period, Blue and white wares from Jingdezhen became the most sought after export ceramic wares. To regain some of the market share, the Dehua potters also followed suit to produce such wares. They were of poorer quality compared with those from Jingdezhen. However, it was able to capture a niche market in the lower end market especially in Southeast Asia. Besides Dehua, kilns in the surrounding Fujian region especially Anxi (安溪), Hua an (华安), Nanjing (南靖) and Yongchun (永春) also produced them. Stylistically, the blue and white wares are similar but can still be identified by its more greyish paste. To find out more about Dehua blue and white wares, please read this.
Other Fujian Wares
There are also small quantity of light celadon vessels such as incense burners and small vases. They are likely products of Fujian Hua an (华安) kiln.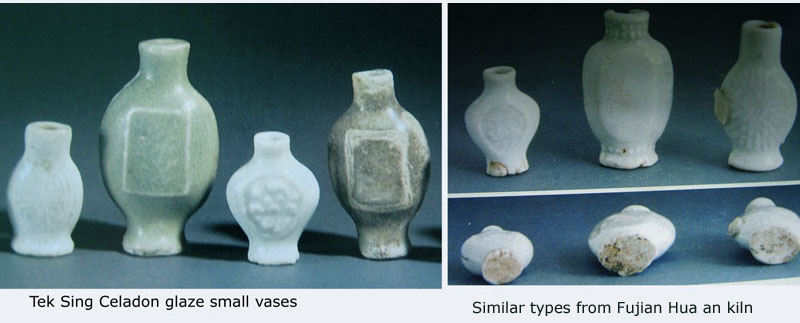 Among the cargo there are also some green lead glaze dishes. Majority have badly degraded glaze that appear blackish. Dishes with similar decoration have been found in Fujian Nanjing (南靖) kiln.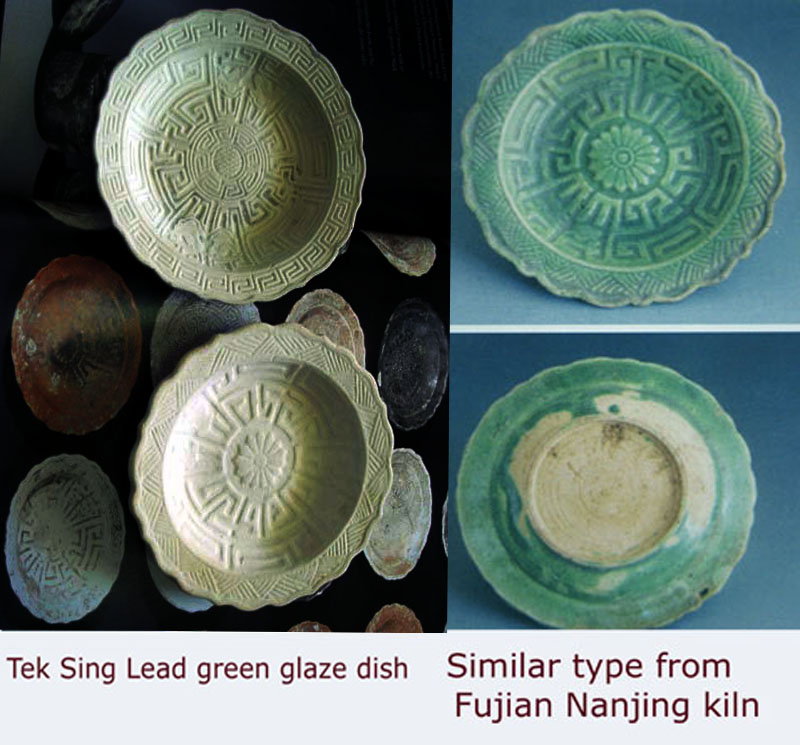 There are also Fujian kiln white monochrome white glaze wares and others which are painted with overglaze enameled decoration.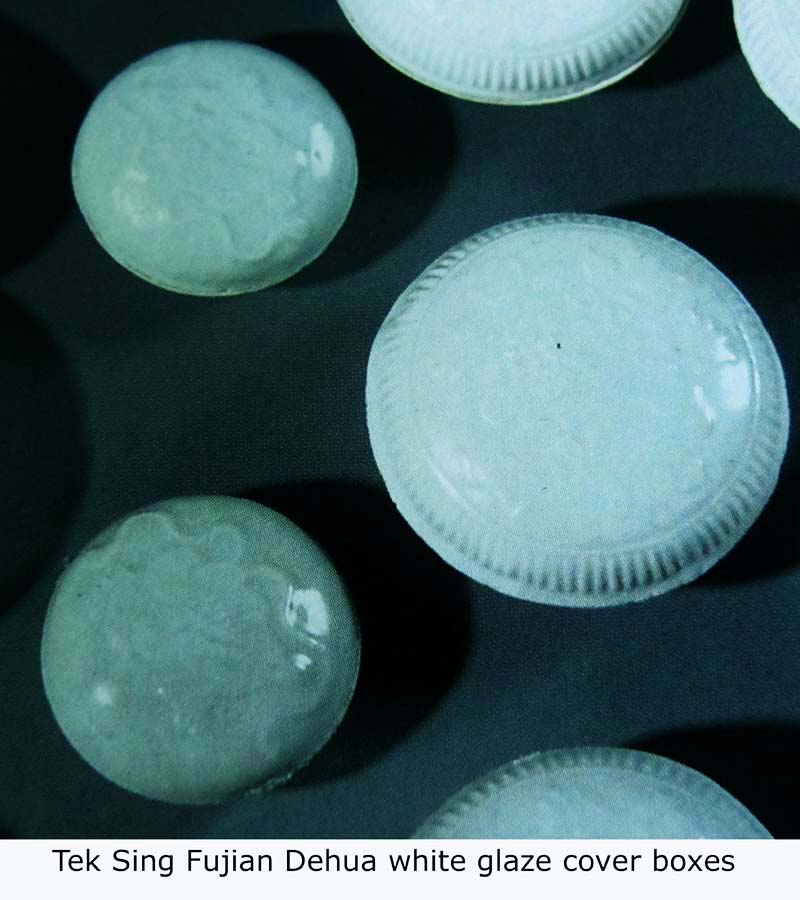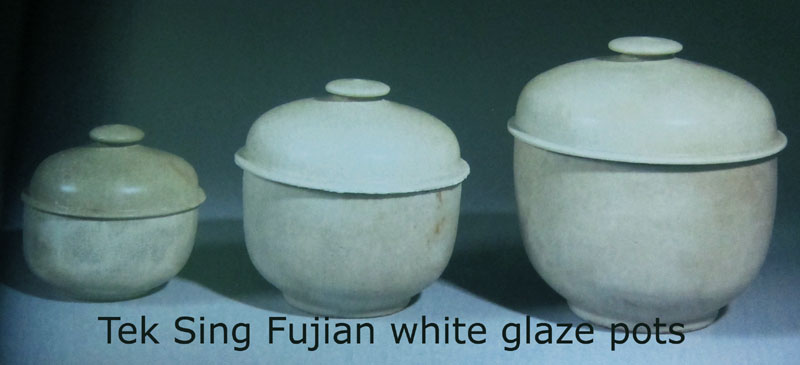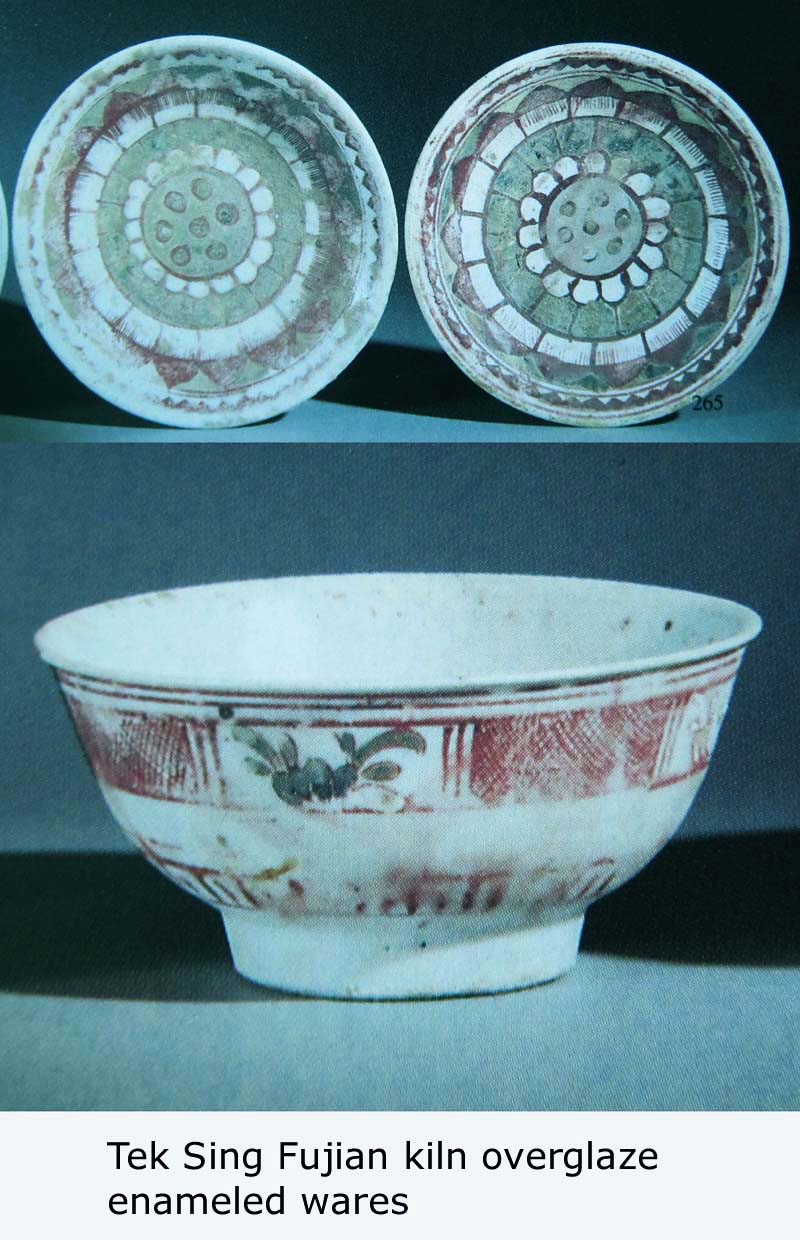 There are also some quantity of Fujian brown glaze utilitarian vessels.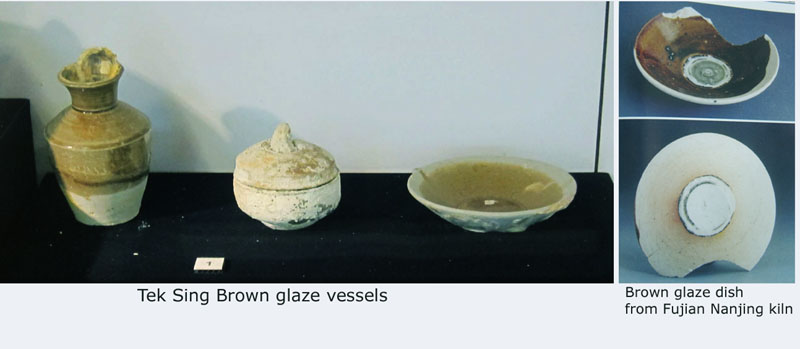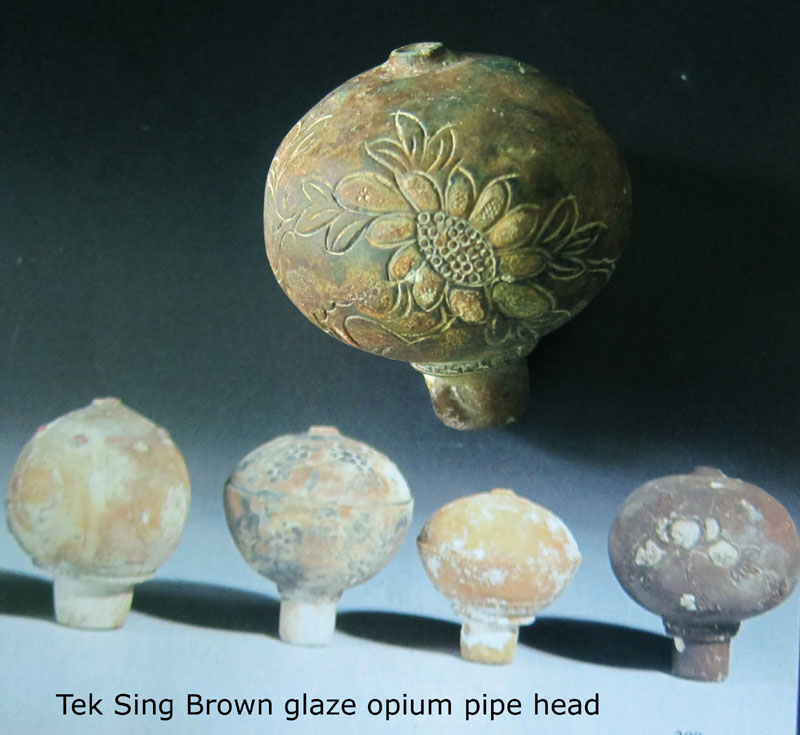 Non Fujian Ceramic wares
Among this category, the most distinctive are teapots from Jiangsu Yixing kilns.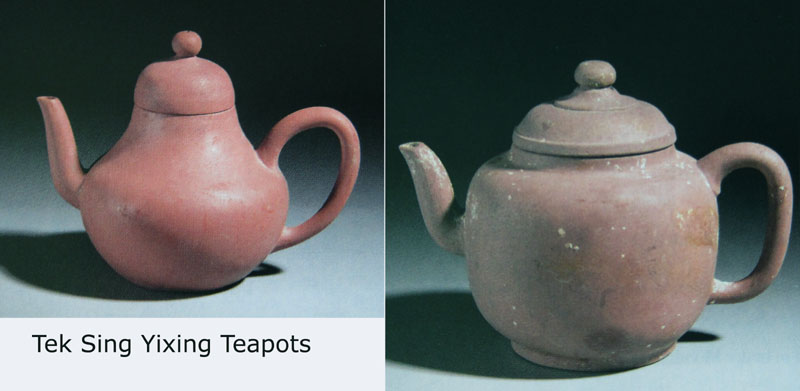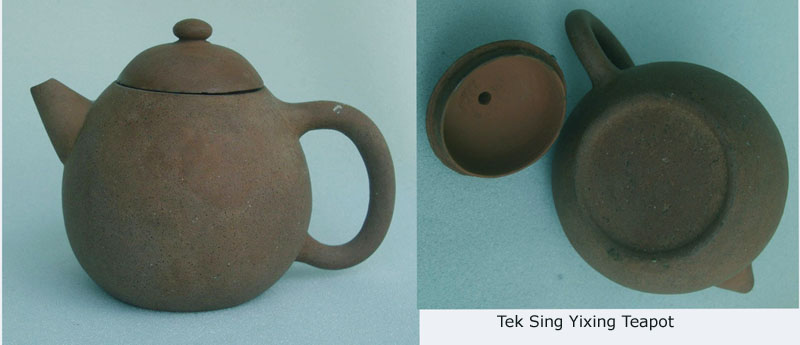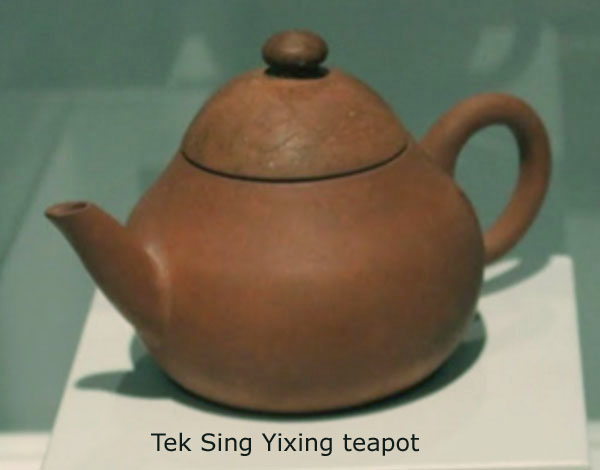 Another interesting group is blue and white infant figurines. They were most likely produced in Jiangxi Jingdezhen kiln.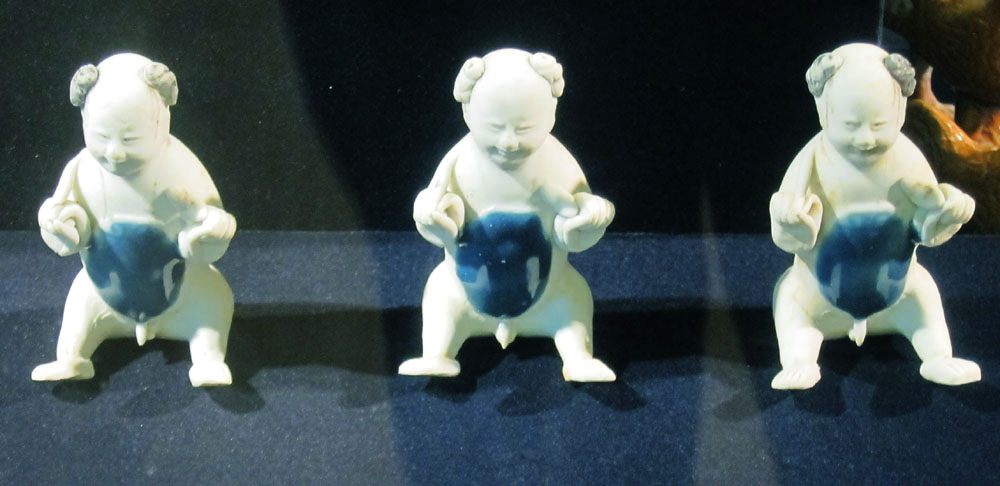 Blue and white Infant figurines likely produced in Jingdezhen
There are also some brown painted human and bird figurines and lead glaze figurines of cockerel which are either from Fujian or Guangdong kiln.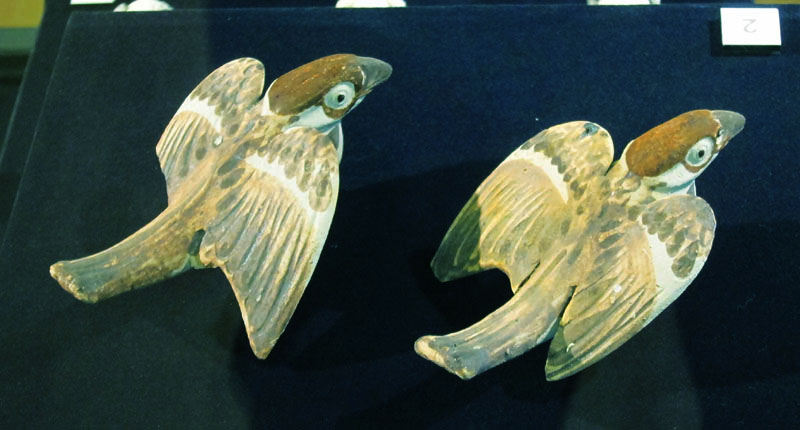 Brown painted figurines of bird
Yellow lead glaze figurines of cockerel
DISPLAY OF TEK SING ARTEFACTS IN NATIONAL MUSEUM OF INDONESIA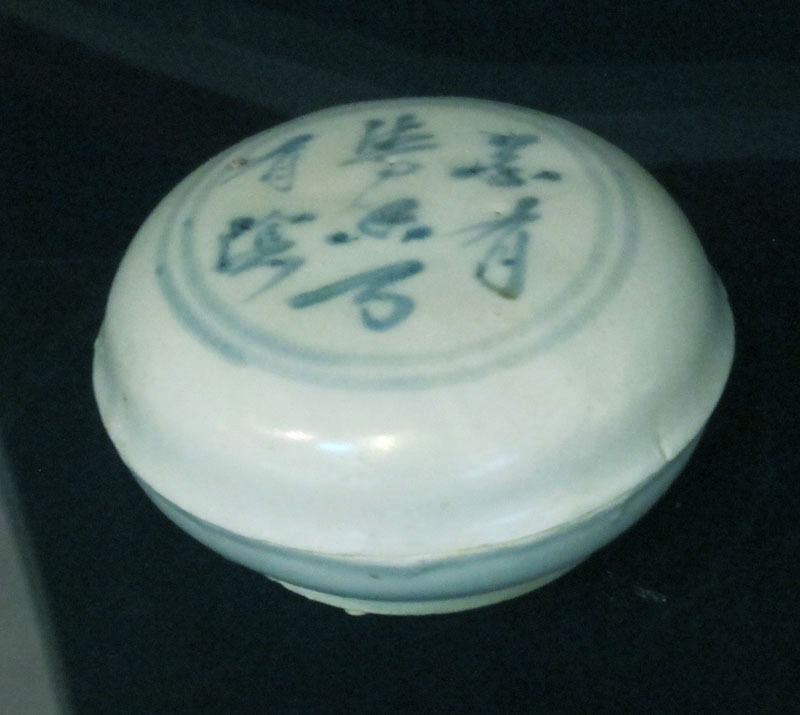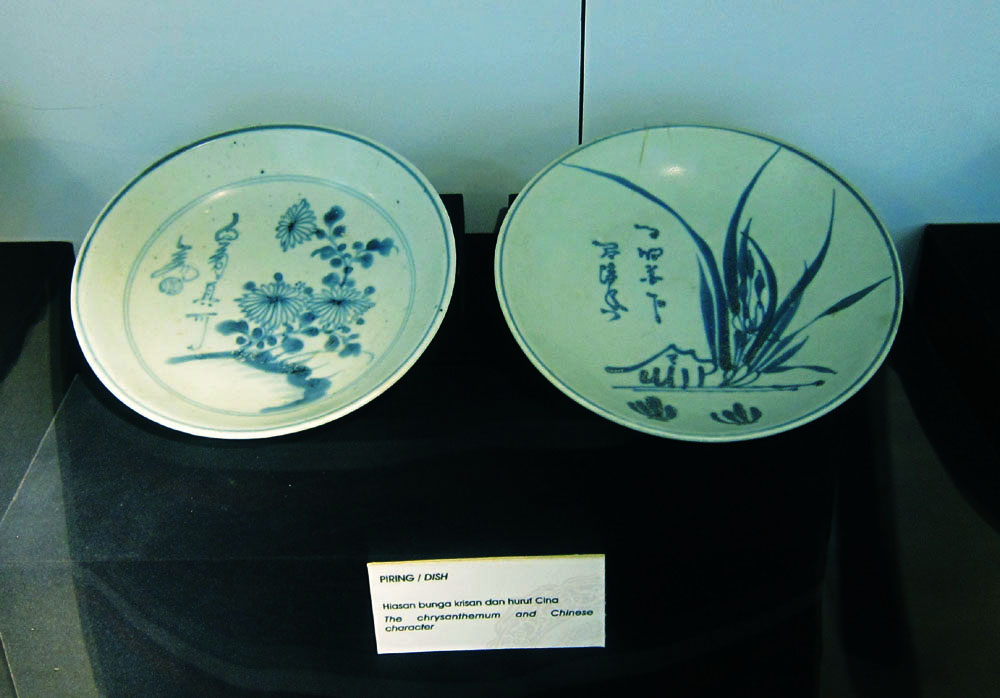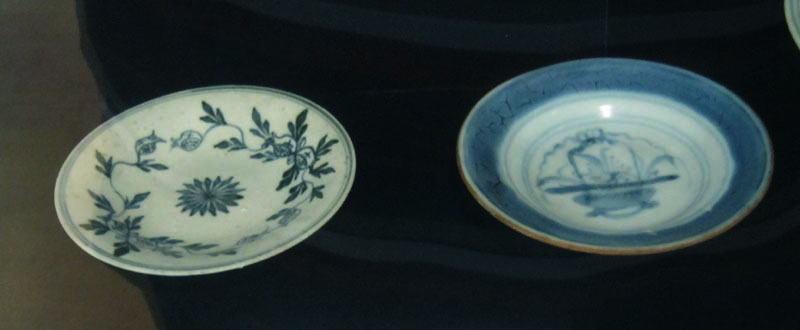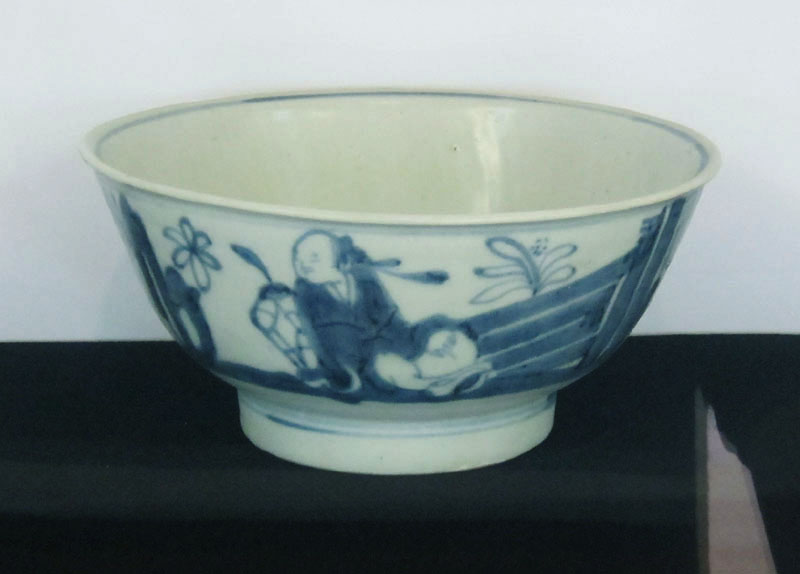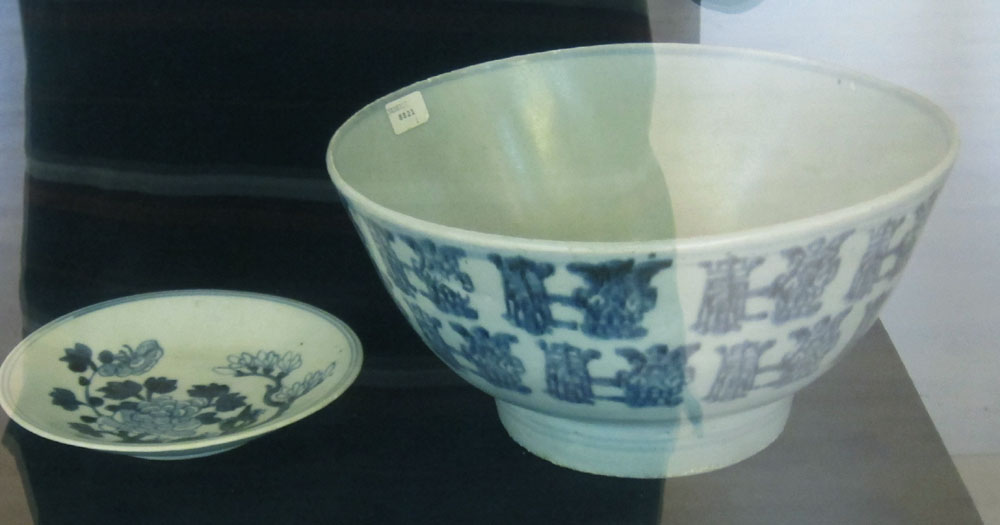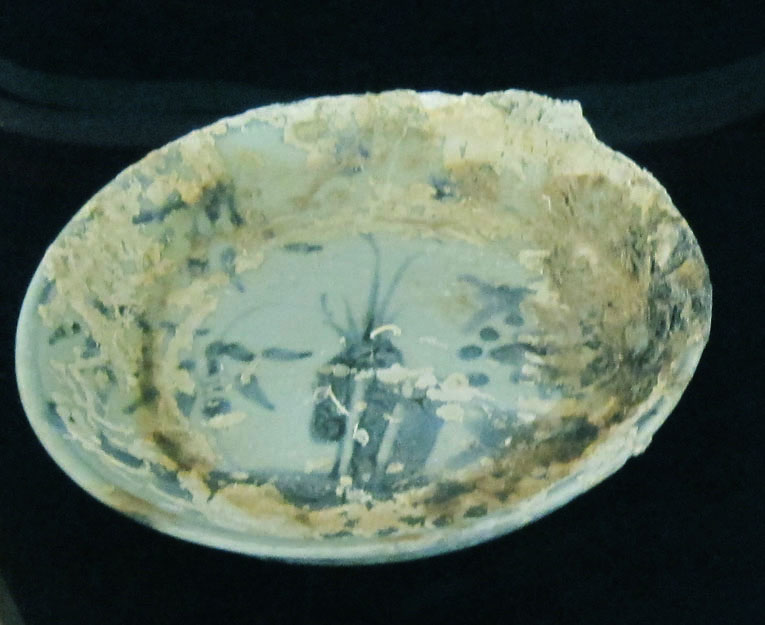 Fujian blue and white, mainly from Dehua kiln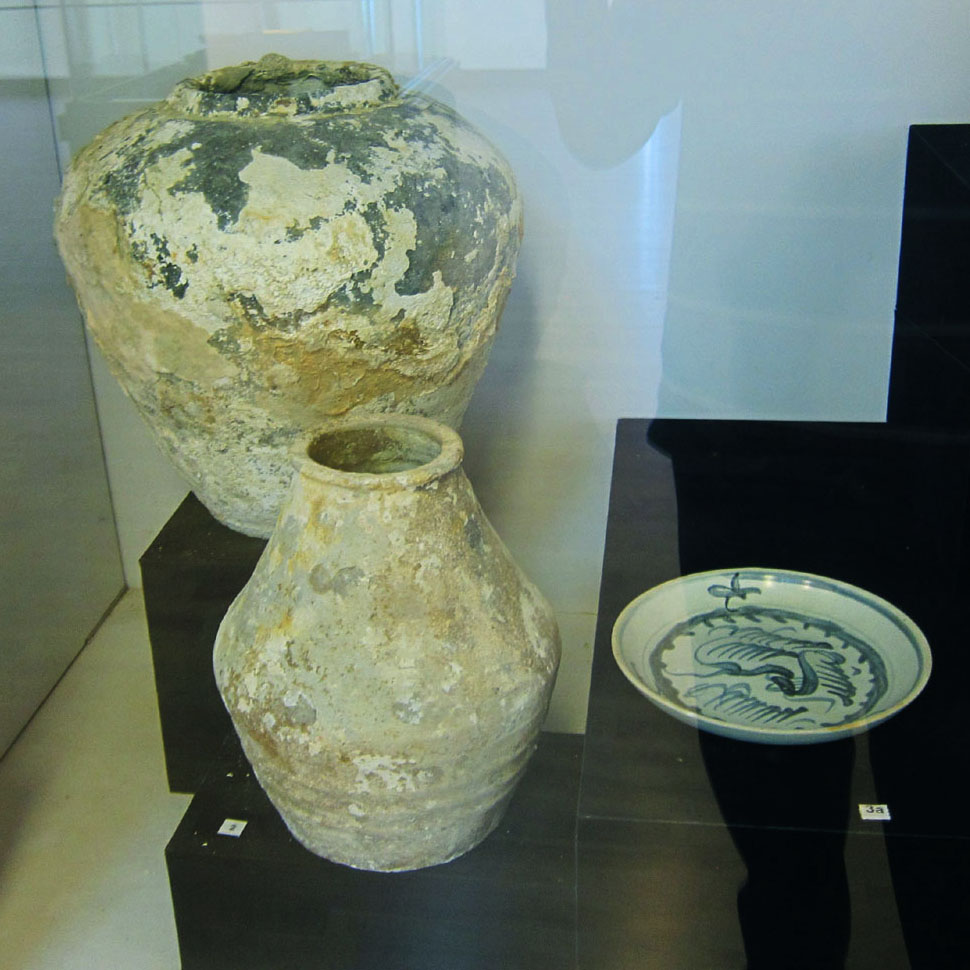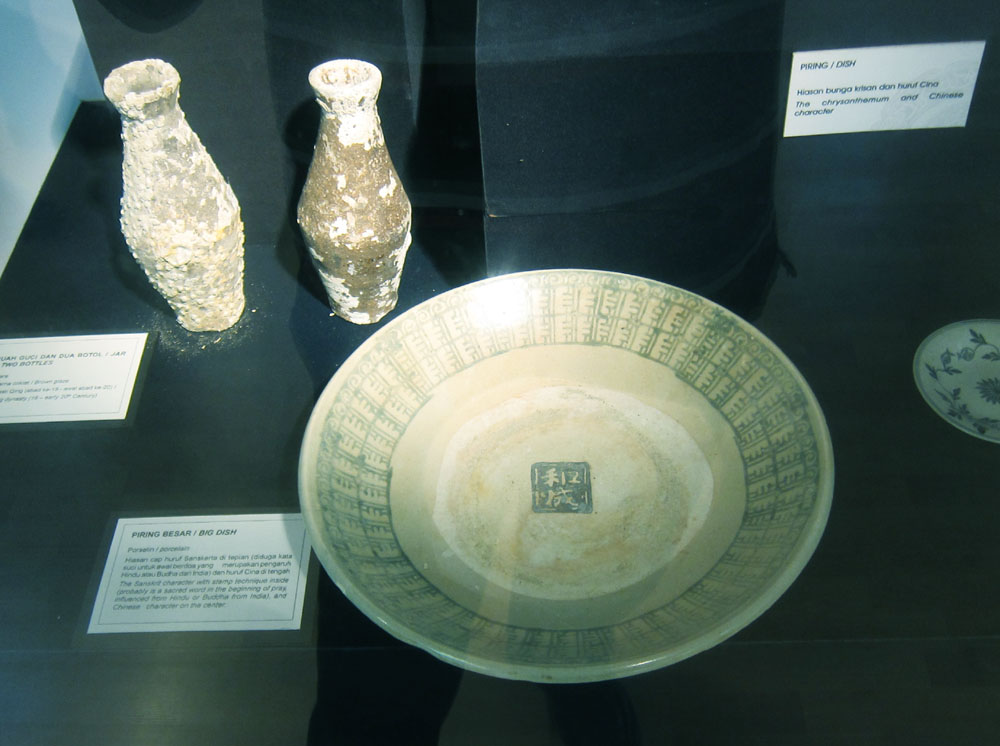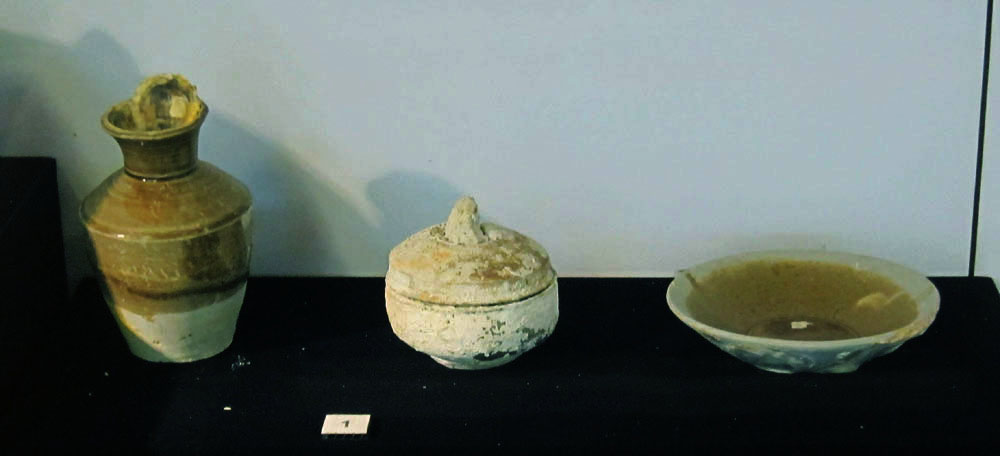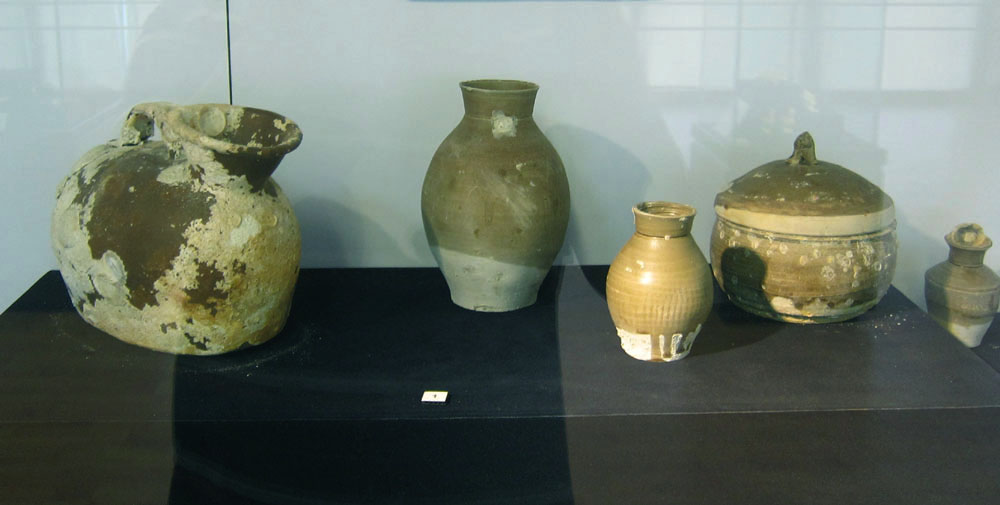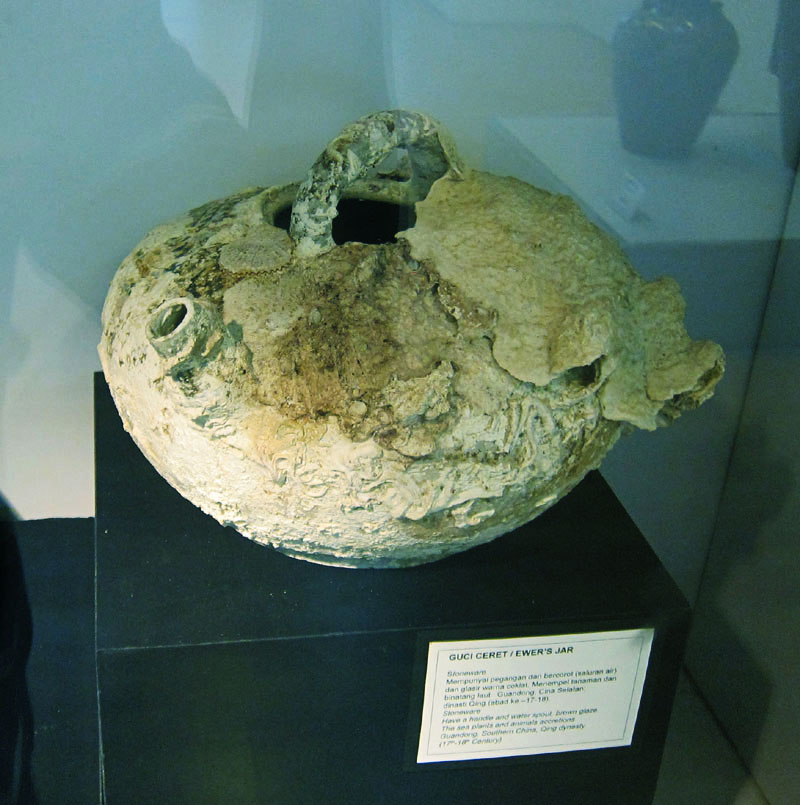 Brown glaze vessels which are likely also of Fujian origin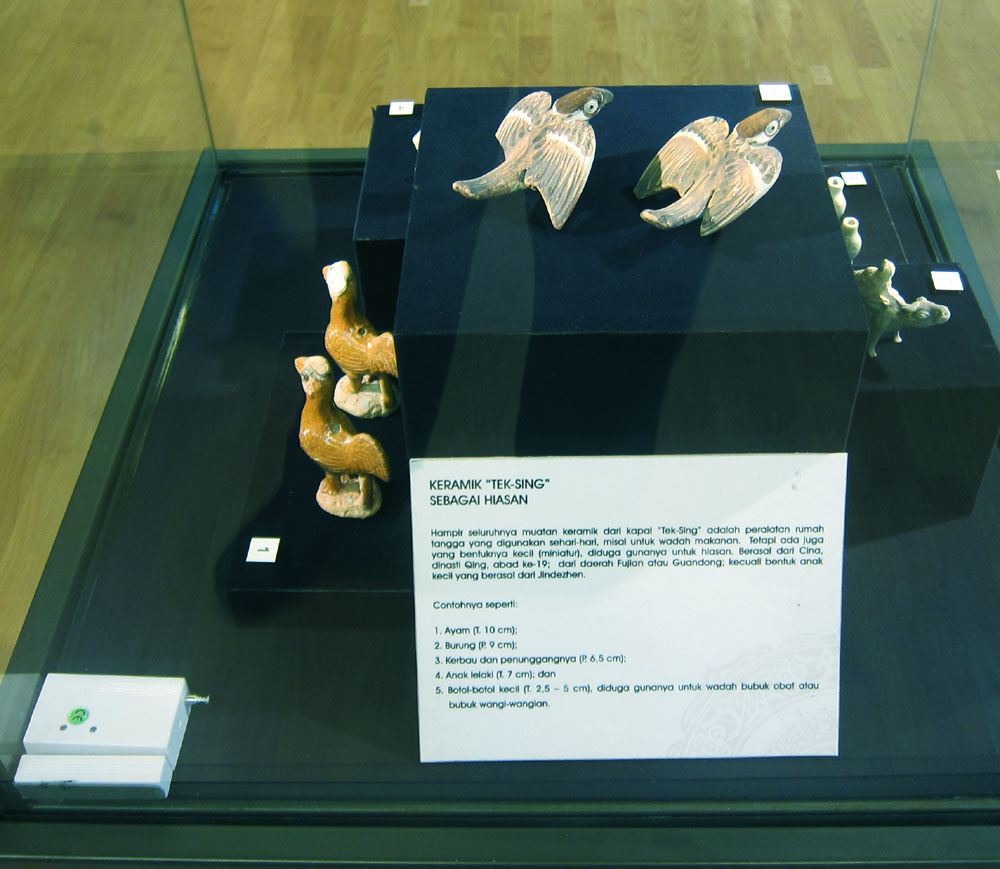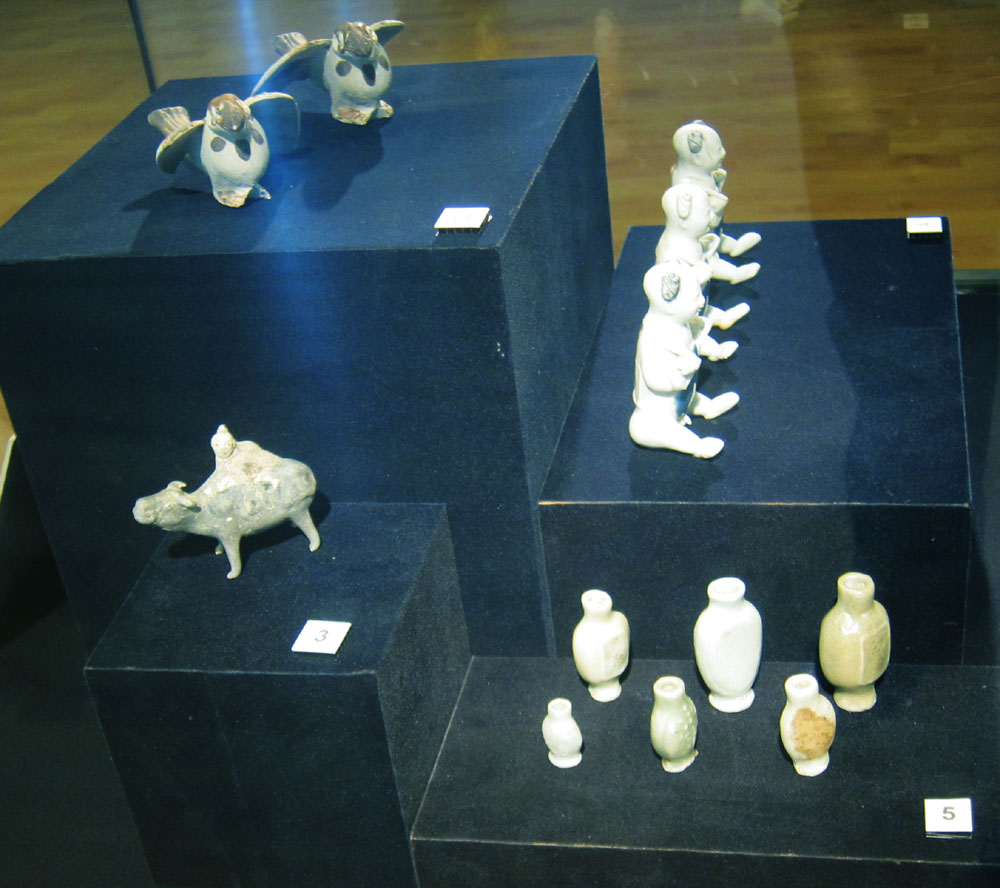 Small figurines/small vases likely from Fujian/Guangdong kilns
Concluding Remarks
From the view point of understanding the history of Chinese trade ceramics, this is a significant find. The large quantity of Fujian trade ceramics provided a useful body of reference for study of role played by Fujian kilns during this phase of trade ceramics. By Daoguang period, the quality of Jingdezhen porcelain has deteriorated and America had emerged as its biggest market. By this point of time, Fujian ceramics with Dehua as the leader had gained ground and enjoyed a sizeable market in Southeast Asia. From my travel in Vietnam, I observed that Dehua blue and white wares could be found easily in the antique markets. This is a clear indication of its popularity. Recent archaeological surveys and excavation confirmed Dehua was the centre of production of blue and white in Fujian during Qing period. Dehua-type blue and white wares were also produced in surrounding counties and its influence reached as far as Raoping (饶平) in present day Chaozhou. Some of the more important export oriented productions sites included Anxi (安溪), Yongchun (永春), Nanjing (南靖) and Hua an (华安). Dehua potters were also documented to have even migrated northward and set up kilns in Minbei (Northern Fujian) such as Guang Ze (光泽).
Video clip of the Tek Sing artefacts in the National Museum of Indonesia
Written by: NK Koh : 15 Jun 2016